Vincennes Sun-Commercial
December 7, 2013
By Tony Raap Jasper Herald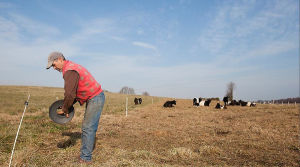 Jerry Steckler changes the wire fencing on a section of pasture on his farm near Dale on Monday to allow his cattle to graze on a fresh portion of grass. By separating the pasture into sections, Steckler ensures that he has pasture for his cattle to continuously graze on through the winter. He makes organic cheese and is certified by the U.S. Department of Agriculture.
DALE — What if cows could produce harmony?
Sounds crazy, right? Well, not to Jerry Steckler, who runs an organic dairy farm north of Dale.
Last year, Steckler began producing organic cheese, which is sold under the label Steckler Grassfed in 37 grocery stores and wineries across southwestern Indiana and northern Kentucky. His cows graze on natural grass that is free of chemical fertilizers, herbicides and pesticides.
Organic milk also has more omega-3 fatty acids, which are considered good for the heart. Though more expensive, organic products have grown in popularity, becoming a $31.5 billion industry, according to the Organic Trade Association of North America.
"Science isn't smart enough to figure out what's better for us than nature," Steckler said. "We don't have to know how it works. All we need to do is live in harmony with nature. In this case, put the cows out on the pasture where God designed them to be, and through his design the food is automatically better for us."
Steckler was raised on a conventional dairy farm. In 1987, he and his wife, Marsha, bought a farm of their own about a mile from where Jerry grew up.
Back then, he fed his cows corn and soybeans, just as his parents, Gilbert and Mary, had. Then, in 1994, he attended a seminar sponsored by Purdue University on rotational grazing.
"It clicked in my mind," said Steckler, who owns about 50 dairy cows.
"There's so many expenses that you can cut out," he added.
Going organic meant no more harvesting or storing feed. He would just let the cattle graze from his 170-acre salad bar.
The switch didn't happen overnight. Steckler slowly phased out his crops, turning his cornfields into a lush pasture. In 2007, his farm was organically certified by the Ohio Ecological Food and Farm Association, which certifies farms across the Midwest.
At first, he marketed his milk through Organic Valley, a farmer-owned cooperative in Wisconsin, but later switched to Traders Point Creamery near Indianapolis to get a greater return on the sales price of his milk.
That arrangement lasted only a few months before the creamery told him it could no longer afford to ship his milk.
Rather than finding another distributor, Steckler decided to strike out on his own. For years, he had toyed with the idea of building his own cheese-making facility.
"It just tooka little bit more pressure to get us to decide to go ahead and do it," said Steckler, who is 53.
His cheese is made from raw milk. Because it isn't pasteurized, the cheese must age at least 60 days before it is sold, according to federal regulations.
It is stored in wooden crates in an aging room — what Steckler referred to as an "above-ground cave" — where the temperature is kept at 53 degrees.
The softer cheeses — Monterey Jack, colby and pepper jack — are cut up and sold after 60 days. But the cheddar is aged at least nine months before it is taken to market.
"It builds so much more character over that aging time," said Steckler,whose cheese retails for about $6 for an 8-ounce block.
Stephen and Christy Gordon own Grounded Organic & Natural Foods in Jasper. Several brands of organic cheese line their shelves, but only Steckler's is locally produced.
"It's a great offering," Christy said. "Supporting local is very important, too."
Steckler said he is proud to produce cheese that is "more in harmony with nature."
"To make better food available for the people who are wanting it, there's got to be somebody that's willing to step out and take the risk and do it," he said.